Ann And Nancy Wilson Of Heart's New Book: 'Kicking & Dreaming'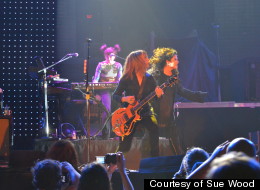 Sisters Ann and Nancy Wilson are the frontwomen of Heart, a band whose raw brand of rock and roll has been thrilling fans for more than 30 years. At a time when men dominated rock, the sisters made a name for themselves playing their own instruments and writing their own music, including hits like "Magic Man," "Barracuda," and "Crazy On You." But the constant crush of touring became too much for one of the sisters, leading to a traumatic breakup in 1995. Here is an excerpt from their new book, "Kicking and Dreaming: A Story of Heart, Soul and Rock & Roll" released this week.
Ann Wilson
In the spring of 1995, Nancy called and said she wanted to talk. She was living part of the time in Los Angeles with Cameron, but also still coming up to work on Heart projects. I knew they were trying to start a family, without success. She had also begun to work on film scores, and I was excited to see her find another avenue for her creativity.
I thought she might want to discuss where a new Heart album could go, and how we could follow "The Road Home," set for release that summer. It was our last album in our current contract, and there were already indications Capitol may not want to renew. In fact, a few weeks later, after having sold twenty million albums for them, Capitol dropped us.
It was an unseasonably warm spring Seattle day, when Nancy and I met, and we sat on my back patio. The cherry trees were blooming, and little pink blossoms floated by. She sat down and came to the point. "I don't want to do Heart anymore," she said. "At least for a while. I need to take a break and put Heart on hold."
I was speechless. It felt like she had leaned over and stabbed me in the chest with a knife. To me, her announcement was also the end of Heart. For three decades, we had been more than sisters: We had been partners in creativity, business, and a force of two against the world.
Nancy explained she wanted to work with Cameron on more film scores; she wanted to get off the road and put time into starting a family. What she didn't say, but what I thought, was that she didn't want to keep coming back to Seattle to witness the withering and dying of Heart. Though we had been a unified force in Heart for most of our history, there had been times when I wanted to tour more than Nancy did, but we'd always gotten over that. This was the first time I had come up against anyone in the band, or in my family, who didn't believe in Heart. It was particularly hurtful because it was my sister who no longer believed. It was the other half of the sky.
***
I could support her decision as her sister, even if it meant the end of the band. I could love her and forgive her. We were family, after all. When you love someone, you forgive, even if a scar remains. Our words had been ugly, but an hour after that ugliness I remembered that my sister and I were more than just Heart.
***
Nancy Wilson
When I left Ann's that day, I felt like a murderer. I was surprised I'd actually had the courage to do it, but it still felt awful. I wanted to put Heart on hold for me, but in doing so, I knew I was taking the wind out of her sails, too. I knew I was taking food out of the band and crew's mouths as well. Heart had to be on the road to make money -- it was the only way it worked for any us. Ann did not want to hear what I had to say, and I did not want to tell her. It was not fun. It was one of the hardest things that ever went on between us.
I had started working on scores to Cameron's movies the year before, and I was deep into fertility treatments. I thought I could be everything to everyone all the time, but that wasn't working. The demands of being on the road with Heart were pulling me away from the other parts of my life. I was trying to get pregnant, but I was failing at that, and setting up appointments with fertility clinics wasn't easy when you were in Dallas one day, and New Orleans the next.
Ann defined herself by her work, which was similar to Cameron. There is almost no other thing they define themselves by. They both are driven, committed to art, and brilliant. Lynn and I had joked since our childhood that we were on "Ann's staff," and in a way I found myself in the same relationship with Cameron, but happy for it.
The previous year, I turned forty, and a panic ensued that I wasn't a mom. Cameron and I hadn't discussed starting a family before we married. We had many strengths in our relationship, but talking about important issues was never one of them. We always managed to find time to discuss a new Joni Mitchell album, but our own relationship was the last topic brought up. We had been together for five years before we discussed marriage, and we were married for five years before the idea of having kids was seriously discussed.
We didn't decide to have kids at first; we just decided to stop trying not to have them. That was like a lot of our relationship: fluid, loose, and sometimes dysfunctional. All those Joni Mitchell records affected me: I thought true love should be natural, and effortless.
Because both Cameron and I had jobs in entertainment, we had an unorthodox relationship. But when I wasn't on the road with Heart, it was more traditional. I became the stay-at-home wife, working in my husband's world, and making dinner every night. Even when I was home, I hardly saw him, because he was always writing, but at least there was comfort because he was right in the next room.
Even while I was working on film scores, my main focus was on becoming pregnant. It consumed me, but it did not go well. Eventually, I began to take fertility drugs. I took those shots thinking they were going to bring me to the thing I wanted the most in the world, but their effects were severe, and often I was an emotional mess.
That year the Ann Wilson Band came to Los Angeles, and I went to the show. It felt so very strange to be driving to a concert that Ann was giving without me. Watching her show from the audience, a part of me was sad I wasn't onstage, but it was also a bit of a thrill. I hadn't watched Ann from the audience since the days I was trying out for Heart in Vancouver.
She was just shredding it onstage, closing it down with her voice. It felt so different to be in the audience listening to her amazing voice. It made me want to be in Ann's band because she was such a good singer. It was like a religious experience.
We had talked on the phone before the show, and she asked if I wanted to sit in, but my fingers weren't itching to play. I was so out of practice, and so hormonally challenged that I didn't want to be onstage and be rusty. I didn't think she could see me in the audience, but when I went backstage after, she told me she had spied me immediately.
"It was hard to pay attention to anything else," Ann said. "My connection with you is greater than any connection with the audience could ever be."
View all photos here: http://www.huffingtonpost.com/2012/09/19/ann-and-nancy-wilson-heart-book_n_1896055.html