Muruch's Victoria gives her thoughts on Fanatic
Seminal female rock band Heart just released their fourteenth studio album, Fanatic. The album is somewhat of a companion to their new memoir,Kicking and Dreaming. I had a mixed reaction to the recording. It's one of those albums that's torn between magnificence and mediocrity. Thankfully, though, its strengths are far greater than its weaknesses.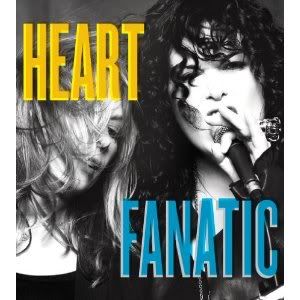 Something about the production of the opening title track seems a little off. Neither the instrumentation nor Ann's vocals are individually bad, but they just don't mesh as they should. Her vocal track seems to have been laid flatly on top of the arrangement rather than properly mixed with it.
"Dear Old America" is much better, though. The song is a swirling rocker written from perspective of a Marine returning home from war. Said Marine just happens to be the Wilson sisters' father.
The tepid "Walkin' Good" seems a wasted duet with Sarah McLachlan. Again I feel the problem lies in the production or mixing. According to the liner notes, Sarah recorded her vocal track and emailed it to be incorporated into the song. As a result, her voice is barely audible in the chorus.
The sultry "Skin and Bones" sets things right again with a bluesy rock style that fits perfectly with both Anne's rich voice and Nancy's searing guitar work. It's smooth sailing after that, as the album's second half is totally solid and praiseworthy.
The fantastic blues-rock anthem "A Million Miles" was inspired by the traditional folk song "900 Miles."
The epic "Mashallah!" is the standout with its thunderous rock arrangement and wailing chorus, both of which remind us why Heart used to be nicknamed Little Led Zeppelin.
"59 Crunch," which the band describes as "psycho surfer," is another guitar-heavy rock track.
The finale "Corduroy Road" is the perfect marriage of the Heart's usually dueling rock and acoustic sides.
As a whole, Fanatic doesn't quite grab me as much as its predecessor, Red Velvet Car. However, the standout tracks mentioned above are among the best Heart's ever recorded.